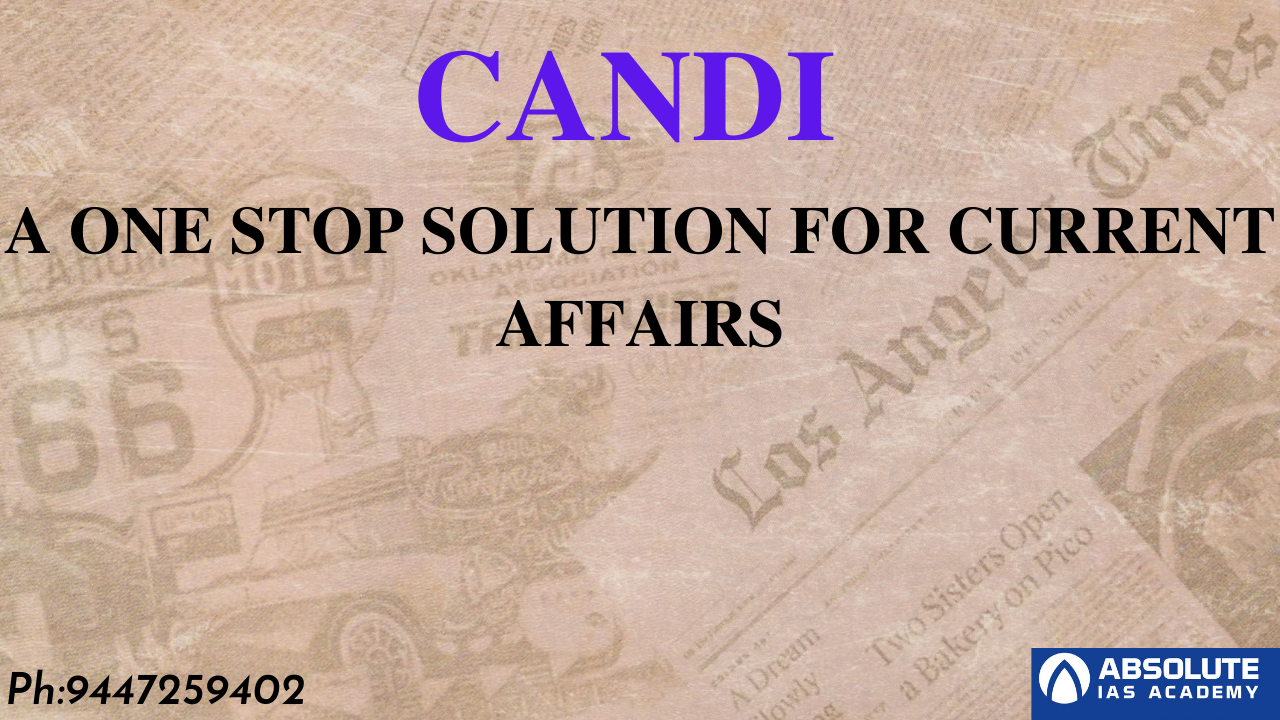 26 CANDI AUGUST 2021
OPINIONS & EDITORIALS
Contrasting Afghanistan policies of India and Pakistan
GS 2 – International Relations
Context:
More than a week after President Ghani fled Kabul, there is no government, let alone an inclusive and internationally acceptable one, in sight. Two interconnected political negotiations unfolding are likely to determine Afghanistan's immediate future.
One is focussed on building a new political order within Afghanistan and the other is about gaining international recognition for the incipient Taliban-led government.
Notwithstanding the current triumphalism in Pakistan at "overthrowing" the US-backed order in Kabul and "pushing" India out of Afghanistan, Delhi can afford to step back and signal that it can wait.
Role of Pakistan
Pakistan and the Taliban need an understanding of the US and its allies to gain political legitimacy as well as sustained international economic assistance.
The West, too, needs the Taliban to facilitate the evacuation of its citizens from Kabul and, sooner rather than later, deliver humanitarian assistance, the demands for which are rising rapidly in the West.
In other words, there will be much room for engagement between Kabul and the world and Pakistan sees itself as the critical interlocutor.
Challenges for Pakistan and Taliban:
 Constructing a credible government o Consensus within factions of Taliban: Before Rawalpindi can get the Taliban to share power with other groups, it has to facilitate an acceptable accommodation between different factions of the Taliban.
Then there is the problem of including the non-Taliban formations in the new government. There are some efforts in that direction by the Taliban but they remain inconclusive.
Trust deficit with Afghans: Meanwhile, the Taliban is yet to convince the broader population of its good intentions. Thousands of Afghans are desperate to escape from a future with the Taliban. Some opponents are regrouping to organise military resistance.
 Securing the international legitimacy of a Pakistan-backed order in Afghanistan
o The international community has set some broad conditions for the recognition of the Taliban-led government.
o Besides an inclusive government at home, the world wants to see respect for human rights, especially women's rights, ending support for international terrorism, and stopping opium production.
The US has already frozen Afghanistan's financial assets. Some Western banks are blocking remittances into Afghanistan. These pressures make the current dire economic situation in Afghanistan increasingly unbearable.
Pakistan will hope to get some of its traditional friends like China and Turkey or new partners like Russia to break the current international consensus.
India's role in Afghanistan
India has never been in strategic competition with Pakistan in Afghanistan. India's lack of direct geographic access to Afghanistan has ensured that. Geography is also the reason India and Pakistan pursue vastly different strategies towards Afghanistan.Both their strategies have roots in the 19th-century policies of the Raj.
| | |
| --- | --- |
| Pakistan's Afghanistan Policy | India's Afghanistan Policy |
| The Pakistan Army's quest for strategic depth in Afghanistan harks back to the "forward policy" school that sought to actively control the territories beyond the Indus. | Delhi, in contrast, stayed with a rival school in the Raj that called for "masterly inactivity" — a prudent approach to the badlands beyond the Indus. |
| Pakistan's forward policy seeks political dominance over Afghanistan in the name of a "friendly government" in Kabul. | "Masterly inactivity" is not a passive strategy. Delhi's strategy seeks to strengthen Kabul's autonomy vis-à-vis Rawalpindi and facilitate Afghanistan's economic modernisation. It recognises the futility of trying to control Afghanistan. |
| If Rawalpindi's quest for hegemony makes Afghans resentful of Pakistan | Delhi's support for Afghan sovereignty makes India always welcome. |
Way forward for India:
Masterly inactivity demands conserving one's scarce resources and deploying them at the most appropriate moment and location.
o It is about coping with the multiple contradictions within Afghanistan and focusing on subtle and indirect approaches.
Strategic patience coupled with political empathy for Afghan people, and an active engagement will continue to keep Delhi relevant in Kabul's internal and external evolution. In the 1990s, Pakistan and the Taliban had a free hand to shape Kabul's future as the world turned its back on Afghanistan after the Soviet troops withdrew, but they failed quickly and miserably. This time around, the world is deeply concerned with Afghanistan's internal and external policies under the Taliban. That gives Delhi far greater room than in the 1990s to deal with the current situation in Afghanistan.
Source: INDIAN EXPRESS
Getting businesses to act on climate change
GS 3 – Environment
Context:
The latest IPCC report cautions about extreme weather events like heat waves, heavy rainfall, floods, droughts, and cyclones.
 This warning should make India take a relook at its climate mitigation efforts and accelerate them many folds if it wants to achieve the NDC (Nationally Determined Contributions) targets it has made a commitment to.
 India's NDC (Nationally Determined Contributions) include
increasing its cumulative electricity generation installed capacity from non-fossil energy sources to 40 per cent;
lowering emissions intensity of its GDP by 33-35 per cent compared to 2005 levels
creating an additional carbon sink of 2.5- 3 billion tonnes through additional forest and tree cover.
Central government, State governments and municipalities too have to be nudged and incentivised to think global and act local on both emission reduction and biodiversity enhancement.
Role of businesses
Though the IPCC report is purely science based and silent on the role businesses can play, one section that can play a stellar role in the process are businesses, both big and small.
By striving towards emission reduction and net zero goals, they could come closer to achieving their own goals and participate in those of the nation.
Many large domestic industries have set science-based climate commitments. Several have also announced net zero targets and have started to achieve them in different ways.
o Some by shifting to renewable energy and focussing on reducing carbon dioxide emissions and recycling water from their own operations.
o Some are appropriating technology to cut greenhouse gases like methane, and others are trying to ensure their supply chain and consumers are kept in the loop to achieve a circular economy for their products.
 Best practices: Dalmia Cements was an early starter and committed to a net zero target by 2040. ACC and Ambuja Cement have also been concentrating on waste heat recovery, reducing the amount of clinker in cement production, and enhancing renewable energy.
Challenges:
Reluctance of private sector: Though this transition will bring benefits such as reduction of air pollution, new jobs, and reduction of oil imports, all sectors are not serious about going green.
Displacing forest dwellers, cutting down forests for commercial considerations and compensating for it through synthetic reforestation efforts, which look good only on paper, would be drastically missing the woods for the trees.
Slow transition towards clean fuel: Though coal, gas and oil companies have begun to explore and consider investing in renewable energy, hydrogen and other clean technologies, the pace of transition is slow as they are still working towards meeting demand-growth projections.
Livelihoods lost in non-renewable energy sector: Though the transitioning from coal fired power plants to renewable energy has to take place in the long term, it will cause unemployment problems for over 200 lakh workforce that will be displaced. If livelihoods are not protected while reducing coal mining activity, it would precipitate a socioeconomic crisis.
Way forward:
Sector-wise emission reduction: For this both government and industry would have to work assiduously and with an altruistic passion .
Environment clearances must be handed out more judiciously and only to those projects that are of extreme importance in the national context.
No compromises or shortcuts should be allowed while factoring in the impact on the environment and the indigenous people who are today the guardians of our forests.
Phasing out coal powered plants: The displaced labour could be deployed towards renewable energy and environment regeneration projects.
 Increasing the co-processing of waste in cement units : The recent MoU between The
Energy and Resources Institute (TERI) and the Global Cement and Concrete Association (GCCA) to accelerate sustainable development of the cement and concrete sectors is a step in the right direction.
Similarly, sectors like real estate, power, automobiles, aviation, oil, gas, steel, and IT could be studied closely and given sufficient incentives to bring down their emissions sector-wise. This will help us in meeting national targets and also bringing the world closer to its net zero ambition. Source: THE HINDU
Importance of Ujjwala Yojna
GS 2 – Governance
Context:
Many LPG connection holders were found to still be using other fuels like firewood and dung cakes. This is because men, who usually make the decision of buying the refill, often do not agree to a refill which is expensive for the poor.
Background:
 In 2016, the Government launched the LPG scheme as the Pradhan Mantri Ujjwala Yojana (PMYU). NITI Aayog laid out a road map for universal access to LPG by 2025.
 The subsidy for LPG increased from ₹12,000 crore in 2016-17 to ₹21,000 crore in 2017-18 (Petroleum Analysis and Planning Cell, 2018), and 94% of all households had an LPG connection as of September 2019, an increase from 56% in 2014-15.
 In India, many women in poor households who use firewood or dung cakes for cooking spend long hours collecting firewood and making dung cakes. It affects their health and puts the safety of women and girls in jeopardy.
 Using firewood and dung cakes also leads to indoor pollution, as chulhas (firewood-based stoves) using these sources of energy release carbon monoxide and carbon dioxide into the atmosphere.
 The Prime Minister recently introduced Ujjwala 2.0 under which one crore additional PMUY connections aim to provide deposit-free LPG connections to those low-income families who could not be covered under the earlier phase of PMUY.
 Under Ujjwala 2.0, migrants will not be required to submit ration cards or address proof.
The amount allocated for this purpose is ₹14,073 crore this year.
Ujjwala 1.0
 It is implemented by Union Ministry of Petroleum and Natural Gas
 Ujjwala 1.0 was launched in 2016, during which a target was set to provide deposit-free LPG connections to 5 crore women members of BPL households.
 Subsequently, the scheme was expanded in April 2018 to include women beneficiaries from seven more categories (SC/ST, PMAY, AAY, most backward classes, tea garden, forest dwellers etc).
EMI facilities will be given for stove and refill cost (Interest-free loan).
The scheme is complementary to the Prime Minister's 'Give It Up Campaign' through which a huge number of middle-class families have voluntarily surrendered their cooking gas subsidy.
The target was revised to 8 Crore LPG connections and this target was achieved in August 2019, seven months ahead of the target date. Ujjwala 2.0
 In the Union budget for FY 21-22, provision for an additional one crore LPG connection under the PMUY scheme was announced.
 This one crore additional PMUY connections (under Ujjwala 2.0) aim to provide depositfree LPG connections to those low-income families who could not be covered under the earlier phase of PMUY.
 Along with a deposit free LPG connection, Ujjwala 2.0 will provide first refill and hotplate (stove) free of cost to the beneficiaries.
 Also, the enrollment procedure will require minimum paperwork.
 In Ujjwala 2.0, migrants will not be required to submit ration cards or address proof.
 A self-declaration for both 'family declaration' and as a 'proof of address' will suffice. Ujjwala
2.0 will help achieve the Prime Minister's vision of universal access to LPG.
Achievements of Pradhan Mantri Ujjwala Yojana:
1. The initial target of 5 crore connections was achieved well before the target i.e. 31st March, 2019. According to the official PMUY website, by January 2019, 64 million LPG connections have been provided under the Ujjwala scheme, resulting in it being considered one of the most successful and effective social sector programmes in India.
2. Under the PMUY the average per capita consumption is 3.28 cylinders. This should be seen as a positive change in the lives of these households which were long dependent on the traditional cooking fuels and methods.
3. LPG Panchayats are being observed to promote learning through peer group interaction – Kuch Seekhein, Kuch Sikhayein, where apart from experience sharing, it also aims at safe and sustained usage of LPG. Oil Marketing Companies (OMCs) as on date have conducted 59,960 nos. of LPG Panchayats and safety clinics for education and awareness programs among PMUY beneficiaries.
4. To make LPG affordable to poor families, OMCs have introduced 5 Kg refill option to Ujjwala beneficiaries where in Ujjwala beneficiary can swap 14.2 Kg cylinder with 5 Kg refill and vice versa.
5. PMUY implementation has been appreciated by the World Health Organization (WHO) and termed it as a decisive intervention to check the indoor health pollution being faced by the women of the country.
Some issues concerning the scheme:
Issue of refill and affordability: Refilling of LPG gas connections saw a fall in refill from 35000 in 2016-17 to 13000 in 2018. Also, several complaints of affordability were raised as a reluctance of adoption was shown. While the number of LPG connections across India has increased by an impressive 16.26% since the scheme was launched, the use of gas cylinders increased by only 9.83%.
Behavioural Limitations: It requires behavioural changes as it is difficult to give up on ageold practices of using traditional chulhas with a lack of awareness among people regarding benefits of use of LPG gases.
Inactive and corrupt uses: Many inactive accounts were identified, with some accounts bearing false beneficiaries using LPG for commercial and profitable purposes.
Significance of Pradhan Mantri Ujjwala Yojana:
Health: Research showed that people using solid biomass frequently suffer from headaches, nausea, chronic bronchitis and many skin diseases. Indoor air pollution and acute respiratory illnesses caused by it were observed in most rural women.
Women empowerment: Ujjwala has empowered women and protected them and their families through the use of clean burning fuel by helping prevent a significant number of acute respiratory illnesses and other ailments.
Safety: Women going to the forests for collecting firewood are also often exposed to health and safety issues, even sexual harassment at times. This is considerably decreased as a result of the LPG connections.
Economic empowerment: Release of LPG connection under this Scheme shall be in the name of the women belonging to the BPL family enabling the subsidy provision in the women's account. Also, using LPG saves time for women as they do not have to collect solid fuel and then use it for cooking, with this cooking time can be effectively used in other economic activities. Women in many villages formed self-help groups to indulge in community economic activities in their free time.
Environment: There is a definite positive impact on forest cover and the environment from stopping the use of firewood.
Youth employment: It will also provide employment for rural youth in the supply chain of cooking gas. Employment in the logistics and maintenance services are an additional benefit. Way Forward
LPG works well, but only for non-poor households. Others need affordable alternatives to choose from, such as solar energy and solar cookers, smokeless chulhas, biogas plants and electric cookers where electricity is cheap. Good research and development efforts need to be made in the public and private sectors to explore these alternatives. As one solution may not fit all, there is a need to offer a set of energy sources to households so that each of them finds a suitable energy for itself.
Source: THE HINDU
Citizen Assemblies in enhancing Good Governance
GS 2 – Governance
Context:
Citizens assemblies for democratic deliberation should be formally established in cities, districts and states.
Background:
 They should run parallel to formal constitutional bodies that have "decision rights", such as elected assemblies and courts, and must become a source of solutions for them. These deliberative forums must not be think-tanks composed of experts: They must be citizens' forums in which the views of common citizens are heard.