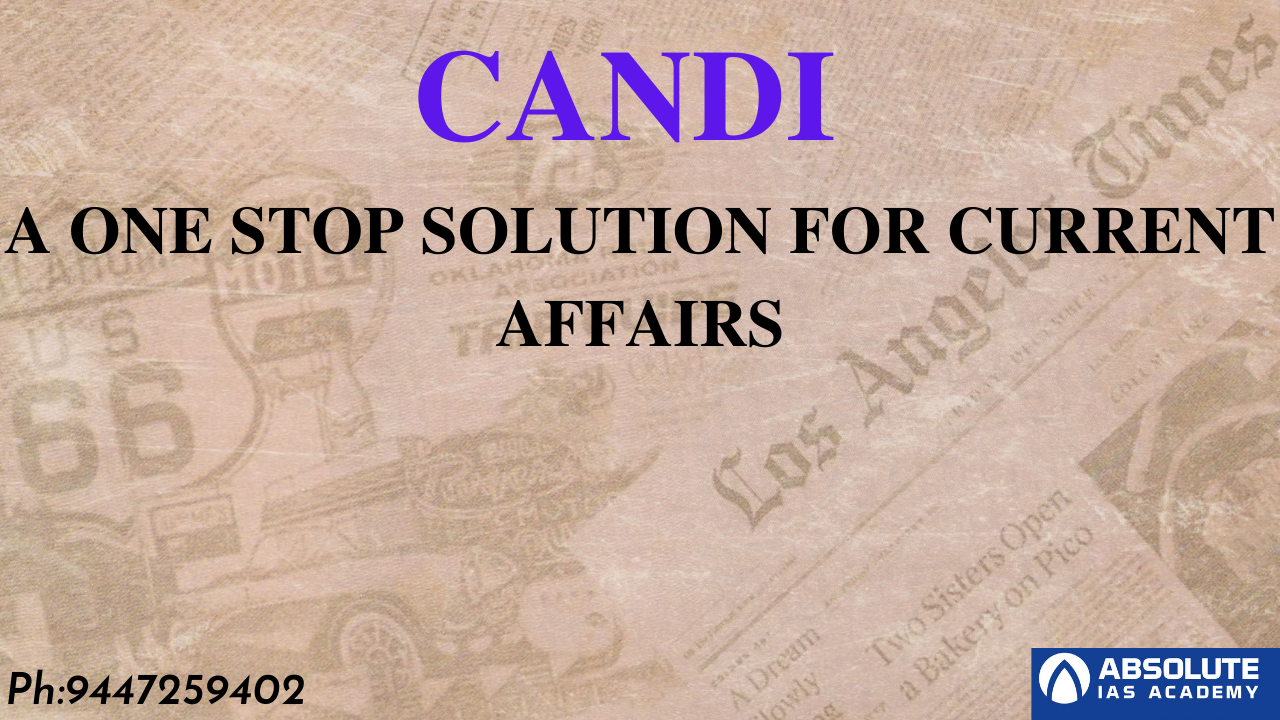 CANDI 07 SEPT 2021
OPINIONS & EDITORIALS
The future of Tokyo's ties with New Delhi
GS 2 – International Relations
Context:
Japan Prime Minister Yoshihide Suga has signalled his intention to quit. His administration's perceived inability to manage Covid-19 dealt a crushing blow to his public credibility.
But little is expected to change in Japan's foreign policy.
Key features of Japan's upcoming foreign policy  Vital alliance with the US.
Japan's more muscular stance on China is likely to continue.
Citing concern over China's aggression in the Indo-Pacific, Japanese leaders have called for Japan to align even more closely with Five Eyes, the US-led intelligence grouping.

The Five Eyes alliance is an intelligence-sharing arrangement between five Englishspeaking democracies: the US, UK, Canada, Australia and New Zealand. It evolved during the Cold War as a mechanism for monitoring the Soviet Union and sharing classified intelligence

Japan is likely to continue a policy of engagement with initiatives such as Quad, while bolstering it's indigenous defence capabilities as the island-nation sheds its pacifist past.
Japan will also have to repair it's tenuous relationship with South Korea.

The two East Asian giants have been locked in an economic and political cold war since 2018, which has threatened regional security and key technology enterprises.
Significance of India-Japan bilateral relations
Wide range of interests—including regional cooperation, maritime security, global climate, and UN reforms. Both India and Japan also share several common ideals like democracy, the rule of law, and human rights, in addition to the complementarities that bind their economies.
India's Act East Policy and Japan's "Free and Open Indo-Pacific Strategy" converge in the North East Region of India as a critical region, where, and both countries are keen to extend their cooperation to the larger Indo-Pacific region—including the African continent.
Japan has been allowed to invest in India's North-East, which has been a no-go area for other countries.
India and Japan are also teaming up to set up a diesel power plant in the Andaman and Nicobar Islands (where New Delhi has not allowed other countries to invest).
The regional environment in the Indo-Pacific: The rise of China has been an important factor, while India's growing closeness with the US has also played a role, as the US and Japan already have a close alliance.
India is a big market for Japanese companies: The Shinkansen (Japanese bullet train) is being introduced in the busy Mumbai-Ahmedabad section in India.
New Delhi is seeking massive investments in its infrastructure sector and Japan is a major investor.
Tokyo wants India in RCEP to more effectively push back against China and is utilizing the 2+2 dialogue to convince India to join RCEP.
Regional Comprehensive Economic Partnership (RCEP) is a proposed free trade agreement (FTA) between the countries of Association of South East Asian Nations
(ASEAN) and the six states with which ASEAN has free trade agreements (Australia, China, India, Japan, South Korea and New Zealand).
The RCEP came into force in November 2020 without India. The signatories of the agreement include 10 ASEAN countries – Singapore, Thailand, Vietnam, Cambodia, Indonesia, Malaysia, Brunei, Laos, Myanmar and the Philippines and 5 key partners (China, Japan, South Korea, Australia and New Zealand).
Challenges:
Political instability in Japan: Prior to Shinzo Abe's stable eight-year tenure, Japanese PMs rose and fell with a frequency that left them unable to make credible commitments on the international stage.

Abe's friendship with PM Narendra Modi, which helped take the Indo-Japanese relationship to the next level, came from the understanding that both men had strong political mandates and could walk the talk at home on foreign policy commitments.

The trade ties which have remained underdeveloped when compared to India's trade ties with China. The bilateral trade between New Delhi and Tokyo in 2017-18 stood at a meagre $15.71 billion, whereas the Sino-Indian bilateral trade in 2017 stood at $84.44 billion in spite of the political tensions between India and China.
o Crucially, both powers also have to navigate key disagreements over India's decision not to join the Regional Comprehensive Economic Partnership and transnational data flows.
Question mark on Quad: The Quadrilateral Security Dialogue (QSD) or Quad Group is an intergovernmental security forum comprising India, Japan, Australia, and the United States of America. o India has long adopted a non-aligned approach as opposed to the stauncher, pro-US foreign policy stances of Japan and Australia.
o The failure of these nations to reconcile their competing views on how best to counter the rise of China.
Countering China in India's neighborhood: the two countries will be cooperating in the development of a Container Terminal in the Colombo Port in Sri Lanka along with the Sri Lanka's Port Authority (SLPA), which is a different model of investment than the Hambantota Port in Sri Lanka, which has been leased by China.
Defence cooperation: They are also engaged in discussions on the possibilities of India acquiring Japanese technology in the production of submarines and on cooperative research in areas like unmanned Ground Vehicle and Robotics
Make in India: India's purchase of Japan's indigenously made US-2 amphibian aircraft if successfully executed, could also contribute to India's 'Make in India' program.
Cooperation in the North-East: Japan's involvement in infra-structure projects, particularly in Northeast India, will further deepen and contribute to closer links with Southeast Asian countries.
Infrastructure projects: smooth implementation of the prestigious high speed rail project linking Ahmedabad and Mumbai will ensure credibility of India's investment climate.
Asia-Africa Growth Corridor (AAGC) project: One important objective of the project is to bring about greater integration within the Indo-Pacific region by undertaking several infrastructure projects.
The Asia-Africa Growth Corridor is an India-Japan economic cooperation agreement aimed at the socio-economic development of Asia and Africa.
The AAGC is a roadmap for opportunities and aspirations in Asia and Africa. It was launched with an aim to prioritize development projects in health and pharmaceuticals, agriculture and agro-processing, disaster management and skill enhancement.
Green technology: Being a developing country, pollution is a serious issue in major Indian cities. Japanese green technologies can help India tackle this threat.
Both nations must continue to work together to build resilient supply chains, closer defence technology ties, and a joint strategy towards China. New Delhi may wonder whether a future PM in Tokyo will have the political mandate to be the regional partner that India so desperately needs in the Indo-Pacific. Only time will tell.
Source: HINDUSTAN TIMES
To tackle nutrition challenges, we must also address sanitation issues
GS 2 – Health
Context:
A recent UNICEF report stated that nearly 12 lakh children could die in low-income countries in the next six months due to a decrease in routine health services and an increase in wasting.
Nearly three lakh such children would be from India — nearly as much as the countrywide death toll from Covid-19.
If this challenge has to be mitigated, India must use the pandemic as an opportunity to come up with long-term multi-stakeholder solutions to the problem of nutrition in the country.
Malnutrition in India
Malnutrition refers to when a person's diet does not provide enough nutrients or the right balance of nutrients for optimal health.
The National Family Health Survey (NFHS 5) indicates that since the onset of the pandemic, acute undernourishment in children below the age of five has worsened, with one in every three children below the age of five suffering from chronic malnourishment.
According to the latest data, 37.9 per cent of children under five are stunted, and 20.8 per cent are wasted. It is a form of malnutrition in which children are too thin for their height.

Wasting is defined as low weight-for-height. Stunting is defined as low height-for-age.

According to NFHS 4, approximately 9 per cent of children under five years of age in India experience diarrhoeal disease.
Causes
Inadequate dietary intake is the most direct cause of undernutrition.
Poor sanitation: According to the World Health Organisation, 50 per cent of all mal- and undernutrition can be traced to diarrhoea and intestinal worm infections, which are a direct result of poor water, sanitation and hygiene. Unsanitary living environments lead to chronic gut injury.
Poor hygiene and sanitation in developing countries leads to a sub-clinical condition called "environmental enteropathy" in children, which causes nutritional malabsorption and is the source of a variety of problems, including diarrhoea, retarded growth and stunting.
Childhood diarrhoea is a major public health problem in low- and middle-income countries, leading to high mortality in children under five.

Diarrhoeal diseases, intestinal parasite infections and environmental enteropathy together impact the normal growth and cognitive development of children, leading to anaemia, stunting, and wasting.
Nutrition and water, sanitation, and hygiene (WASH) are intricately linked, and changes in one tend, directly or indirectly, to affect the other.
CONNECTING DOTS FOR PRELIMS The WASH (Water, Sanitation and Hygiene) initiative has been taken by various countries in order to provide safe drinking water, proper sanitation facilities and a hygienic environment and livelihood to its people. The U.N. General Assembly has called for basic WASH services in all healthcare facilities by 2030 under Sustainable Development Goal 6. o Sustainable Development Goal 6 is about "clean water and sanitation for all". The WHO WASH Strategy has been developed in response to Member State Resolution WHA64.4 and the 2030 Agenda for Sustainable Development and its Sustainable Development Goals (SDGs). Objectives: To provide quality care, healthcare facilities need to have a safe and accessible water supply; Clean and safe sanitation facilities; Hand hygiene facilities at points of care and at toilets; and  Appropriate waste disposal systems.

Infrastructure that supports water, sanitation, hygiene (WASH) and healthcare waste management practices helps prevent the spread of diseases within the healthcare facility and to the surrounding community.
Linkage between WASH and nutrition
One of the first instances of the link between WASH and nutrition appeared in the Convention on the Rights of the Child in 1989, which urges states to ensure "adequate nutritious foods and clean drinking water" to combat disease and malnutrition.
On the one hand, poor WASH facilities exacerbate the effects of malnutrition. But, on the other hand, pre-existing micronutrient deficiencies exacerbate children's vulnerability to WASHrelated infections and diseases.
WHO has estimated that access to proper water, hygiene and sanitation can prevent the deaths of at least 8,60,000 children a year caused by undernutrition.
It's evident that there is a direct, and irrefutable, correlation between sanitation and nutrition, and the sooner we acknowledge it, the faster we can work towards fixing it.
Way forward:
In India's case, in particular, with its population of more than a billion people, both WASH and nutrition must be addressed together through a lens of holistic, sustainable community engagement to enable long-term impact.
Safe drinking water, proper sanitation and hygiene can significantly reduce diarrhoeal and nutritional deaths.
A simultaneous approach to nutrition and WASH will not only aid India's fight against malnutrition, bolster Covid resilience amongst the most vulnerable sections of society but also safeguard against monsoon-related health challenges.

This will require a coordinated, multisectoral approach among the health, water, sanitation, and hygiene bodies, not to mention strong community engagement.

Building awareness and accelerating implementation of clean and safe living strategies. At the end of the day, all sides are working towards a common goal: A safe and healthy population and the hope that the 75th year of Independence becomes a watershed moment in India's journey. Source: INDIAN EXPRESS