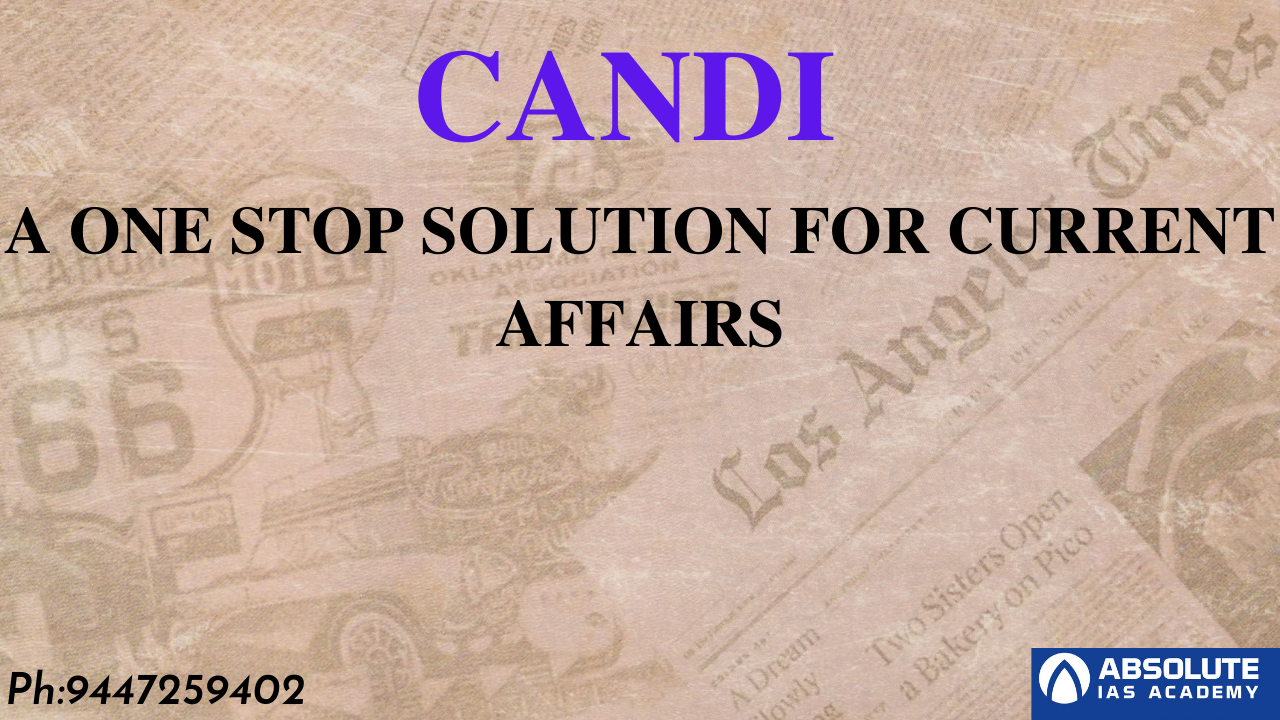 CANDI 16 AUGUST 2021
EDITORIAL SECTION
The role of Parliament and its ineffectiveness
GS 2 – Polity
What in News?
The monsoon session of the parliament ended ahead of the schedule. This is the 4th straight session that ended ahead of its original schedule.
Background:
Many important issues had not been discussed, such as, Covid-19 response and strategy, the Chinese incursion into Ladakh, the economic situation, rising prices of many essential items and farmers problems.
Parliament hardly functioned as both the government and the opposition could not agree on the topics to be debated.
The Lok Sabha worked for just 19% of its originally scheduled time and the Rajya Sabha for 26%.
The government pushed through almost 20 bills without any discussion.
This behaviour is seen in state assemblies (in 2020, 91% of all bills in 19 assemblies passed within 5 days of introduction). But this is a new development for parliament.
There has been a sharp downward trend in bills being referred to parliamentary committees – from 71% in the 15th Lok Sabha to 27% in the 16th and 12% in the current parliament.
The supplementary demand for grants of Rs 23,675 crore was passed by Lok Sabha without any discussion.
There was no discussion in the Lok Sabha on any policy issue and the Rajya Sabha had just one discussion on the management of Covid-19.
Functions of Parliament
The functions of the Parliament are mentioned in the Indian Constitution in Chapter II of Part V. The functions of the Parliament can be classified under several heads. They are discussed below: Legislative Functions
The Parliament legislates on all matters mentioned in the Union List and the Concurrent List.
In the case of the Concurrent List, where the state legislatures and the Parliament have joint jurisdiction, the union law will prevail over the states unless the state law had received the earlier presidential assent. However, the Parliament can any time, enact a law adding to, amending, varying or repealing a law made by a state legislature.
The Parliament can also pass laws on items in the State List under the following circumstances:
If Emergency is in operation, or any state is placed under President's Rule (Article 356), the Parliament can enact laws on items in the State List as well.
As per Article 249, the Parliament can make laws on items in the State List if the Rajya Sabha passes a resolution by ⅔ majority of its members present and voting, that it is necessary for the Parliament to make laws on any item enumerated in the State List, in the national interest.
As per Article 253, it can pass laws on the State List items if it is required for the implementation of international agreements or treaties with foreign powers.
According to Article 252, if the legislatures of two or more states pass a resolution to the effect that it is desirable to have a parliamentary law on any item listed in the State List, the Parliament can make laws for those states.
Executive Functions (Control over the Executive)
In the parliamentary form of government, the executive is responsible to the legislature. Hence, the Parliament exercises control over the executive by several measures.
By a vote of no-confidence, the Parliament can remove the Cabinet (executive) out of power. It can reject a budget proposal or any other bill brought by the Cabinet. A motion of no-confidence is passed to remove a government from office.
The MPs (Members of Parliament) can ask questions to the ministers on their omissions and commissions. Any lapses on the part of the government can be exposed in the Parliament.
Adjournment Motion: Allowed only in the Lok Sabha, the chief objective of the adjournment motion is to draw the attention of the Parliament to any
recent issue of urgent public interest. It is considered an extraordinary tool in Parliament as the normal business is affected.
The Parliament appoints a Committee on Ministerial Assurances that sees whether the promises made by the ministers to the Parliament are fulfilled or not.
Censure Motion: A censure motion is moved by the opposition party members in the House to strongly disapprove any policy of the government. It can be moved only in the Lok Sabha. Immediately after a censure motion is passed, the government has to seek the confidence of the House. Unlike in the case of the no-confidence motion, the Council of Ministers need not resign if the censure motion is passed.
Cut Motion: A cut motion is used to oppose any demand in the financial bill brought by the government.
Financial Functions
Parliament is the ultimate authority when it comes to finances. The Executive cannot spend a single pie without parliamentary approval.
The Union Budget prepared by the Cabinet is submitted for approval by the Parliament. All proposals to impose taxes should also be approved by the Parliament.
There are two standing committees (Public Accounts Committee and Estimates Committee) of the Parliament to keep a check on how the executive spends the money granted to it by the legislature. You can also read on parliamentary committees.
Conclusion
The reason for having a legislature separate from the executive is to have a check on executive power.But the Parliament appears to be quite ineffective in all its functions and needs a course correction.
Source: THE HINDU
TODAY's KEY ARTICLE
At 75, will India embrace the logic of freedom or Partition?
GS 1 – Post Independence
What in News?
India will be celebrating its 75th Independence Day on August 15, 2021, with the usual pride to mark its freedom from British rule.
The Indian Independence movement began during World War I and was led by Mohandas Karamchand Gandhi.
On August 15, 1947, India got its freedom, ending an almost 200-year British rule.
The Indian Independence Bill was introduced in the British House of Commons on July 4, 1947, and passed within a fortnight. It provided for the end of British rule in India on August 15, 1947. After that, India became a free country with the bifurcation of India and Pakistan.
India's Independence Day is significant as it stands as a reminder of the sacrifices that many freedom fighters made to get independence from British rule.
Background:
Some of the great freedom fighters who helped in India's freedom struggle include Mahatma Gandhi, Jawaharlal Nehru, Sardar Vallabhbhai Patel, Bhagat Singh, Chandra Shekhar Azad, Subhas Chandra Bose and many more.
In the 1920s, Gandhi had arrived from South Africa. Congress had to become a mass organisation, with a common touch and vernacular cadence.
Even the elites, who had reservations about his simplicity and moralism, had to concede to his authority.
The intellectual ambitions of India's new leaders: It was to create an alternative universality; position India as a vishwaguru on the dint of its values and the power of its example, not on the barrel of the gun.
Caste system: Ambedkar rightly pointed out that a civilisation that had perfected an oppressive social hierarchy was hardly in a position to occupy the high moral ground.
Challenges for Independence movement
Communalism
Limited democracy came in the form of the 1935 Act. But the deeper poison was the poison of communalism.
There were fights over conversion and reconversion, sacred cows and prohibited pigs, which pamphlets were offensive to which community, who gets patronage from the state, threats of intermarriage, and the writing of history.
The social and intellectual partitions between Hindus and Muslims acquired new force. Rioting gained momentum, mutual recrimination became the new flavour.
Partition of India: Two new nations were born in 1947. India was born amidst the failure of its nationalist project. Nineteen forty-seven was both Partition and freedom; self-determination and slaughter. India's liberal path after independence
India in an act of creative resetting decided to make a fresh start. Pakistan decided to continue with the Partition project; it homogenised its territory, set religious benchmarks for identity.
The largest democracy in the world, committed, with various imperfections, to liberal ideals, and a new hope. Challenges for independent India
Poverty: We did not lift people out of poverty fast enough. Social democracy was often held hostage by plutocracy, bureaucracy and caste hierarchy.
Communalism: Old issues of the 1930s have come back- cow protection, love jihad, new excuses to hate.
In the 1930s, it happened to a certain extent despite the leaders; now our leaders are leading the charge.
The moral of the 1930s was clear. Once unleashed, communalism always breaks nations. It took the sheen off India's renaissance in the 1930s; it will again corrode new India's energies.
The logic of Partition and the logic of freedom are fundamentally incompatible.One sees fellow citizens as a potential threat, the other as a resource to build something special. One on violence, the other on solidarity. Which logic will we embrace — freedom or Partition? A question for both India and Pakistan.
Source: INDIAN EXPRESS
PRELIMS CRACKER
Prime Ministers Shram Awards
Recently, The Government of India has announced the Prime Minister's Shram Awards (PMSA) for the year 2018.
This year the Awards are given in three categories namely:
Shram Bhushan Awards which carry a cash prize of Rs.1,00,000/ each,
Shram Vir/Shram Veerangana Awards which carry a cash prize of Rs. 60,000/- each and
Shram Shree/Shram Devi Awards which carry a cash prize of Rs.40,000/- each.
Protein-based Vaccine
Researchers have developed a protein-based vaccine that mimics shape of coronavirus. This can be used to create immunity that lasts for long time.
This vaccine was developed with nanoparticles that mimic SARS-CoV-2 by displaying multiple copies of receptor binding domain (RBD) antigen.
The surface-decorated nanoparticles generated neutralising antibodies that prevented SARS-CoV-2 infection in cells.
Result of New Family Planning Policy
The following are the result of the Government's initiatives for controlling the Population.
India's Total Fertility Rate (TFR) has declined from 2.9 (2005) to 2.2 (2018), as per Sample Registration System (SRS).
TFR is the average number of children born to a woman in her life time. TFR of 2.1 is set by the Government as the replacement level fertility rate (target) at which population stability is achieved.
28 out of 36 States/UTs have already achieved the replacement level fertility of 2.1 or less,
Crude Birth Rate (CBR) declined from 23.8 (2005) to 20.0 (2018) o To get the CBR, the ratio of Number of live births during the year to the Mid-year population must be multiplied by 1000.
Decadal growth rate declined from 21.54% (1990-2000) to 17.64% (2001-
2011),
India's Wanted Fertility Rate has declined from 1.9 (NFHS-3) to 1.8 (NFHS-
4).
Mission Parivar Vikas
This Mission was launched by the Government in 2017 to improve access to contraceptives through promotional schemes, awareness generation activities, capacity building and intensive monitoring.
It was launched in 146 high fertility districts with TFR of 3 and above of 7 high-focus states (UP, Bihar, Rajasthan, MP, Chhattisgarh, Jharkhand and Assam).
Cryptocurrency Fan Tokens
Footballer Lionel Messi's signing on fee at Ligue 1 French club Paris St Germain (PSG) includes some of the PSG's cryptocurrency 'fan tokens'.
Fan Tokens are a type of non-fungible token (NFT), a digital-only asset.
Like Bitcoin and similar digital currencies, fan tokens are volatile assets, they can be traded on exchanges and their value can drastically change overnight.
Fans can purchase said crypto tokens with real-world money to gain access to exclusive content and augmented-reality games.
These fan tokens are created by a crypto platform called Socios.
Voting – Among other rewards and perks, the fan token holders also get to vote on mostly minor decisions related to their clubs.
More tokens a fan has, more votes they get in the polls. Ultimately though, the polls are decided upon by the clubs.
OTHER ARTICLES IN NEWS
MoHUA launches one brand 'SonChiraiya' – for Urban
SHG products
GS 2 – Governance
What in News?
The Ministry of Housing and Urban Affairs, recently launched 'SonChiraiya' (A brand and logo).
About SonChiraiya:
It is for marketing of urban Self-Help Group (SHG) products.
It will help women to become financially empowered and live a dignified life.
This initiative will certainly prove as a step towards increased visibility and global access for the products made by urban SHG women.
The Ministry expects to link many more such SHG members, with a variety of professionally packaged, hand-crafted ethnic products, reaching the doorsteps of the customers globally.
The DAY-NULM under the aegis of MoHUA, has focussed on equipping the urban poor women with adequate skills and opportunities, and to enable them to promote sustainable micro enterprises. o It mobilises women from urban poor households into SHGs and their federations to create a support system for these women.

Over 5.7 lakh SHGs have been formed across various States/ UTs with almost 60 lakh members.

Many of these SHGs are engaged in livelihood activities, producing goods such as handicrafts, textiles, toys, eatables and so on.

These were being sold primarily in local neighbourhood markets and often faced barriers in achieving visibility and wide market access. o To overcome these challenges, the Ministry entered into Memorandum of Understandings (MoUs) with leading e-Commerce Portals viz. Amazon and Flipkart, with an underlying narrative of women empowerment.

Achievements:

Despite the challenges posed by the COVID-19 pandemic, this partnership has successfully onboarded on the e-Commerce Portal over 2,000 products of nearly 5,000 SHG members across 25 States/ UTs.

Innovative methods of online training for SHGs have been ensured to enable them to smoothly operate on e-portals.

Live demonstrations for account registration, pricing, packaging, rebranding and so on were also organised in collaboration with the eportals and State Urban Livelihoods Missions.
CONNECTING DOTS FOR PRELIMS Deendayal Antyodaya Yojana-National Urban Livelihoods Mission (DAY-NULM): The Ministry of Housing and Urban Affairs is implementing DAYNULM to reduce poverty and vulnerability of urban poor households by: Enabling them to access gainful self-employment and skilled wage employment opportunities, for improvement in their livelihoods on a sustainable basis; Building strong grass root level institutions of the urban poor, including those in vulnerable occupations; Providing shelter equipped with essential services to the urban homeless; Addressing livelihood concerns of the urban street vendors by facilitating access to suitable spaces, institutional credit, social security, etc. In August 2019, Deendayan Antyodaya Yojana-National Urban Livelihoods Mission (DAY-NULM) was conferred the prestigious SKOCH Governance Gold Award for its Portal for Affordable Credit and Interest Subvention Access (PAiSA). Launched in November 2018, PAiSA is a centralized IT platform which simplifies and streamlines release of interest subvention under the Mission. Skoch Awards: The Skoch Awards recognize leadership and excellence in accelerating socio-economic changes.
| | |
| --- | --- |
| • | These awards have become a benchmark of best practices in India in the fields of: o Governance, o Infrastructure, o Finance, o Banking, o Technology, o Corporate citizenship, o Economics and inclusive growth. |
Source: PIB
IndiGau', India's first Cattle Genomic Chip
GS 2 – Science & Technology
What in News?
Recently the government of India, released 'IndiGau', India's first Cattle Genomic Chip for the conservation of pure varieties of indigenous cattle breeds like Gir, Kankrej, Sahiwal, Ongole etc.
About the IndiGau:
This indigenous chip was developed by the concerted efforts of scientists of National Institute of Animal Biotechnology (NAIB), Hyderabad, an autonomous institution under the aegis of the Department of Biotechnology.
It is purely indigenous and the largest cattle chip of the world.
It has 11,496 markers (SNPs) more than that placed on 777K Illumina chips of US & UK breeds.
The Minister stated that, this CHIP of our own indigenous cows is a great example of self-reliant India / "ATMA NIRBHAR BHARAT".
Benefits:

It will have practical utility in the Government's schemes to achieve the goal of conservation of our own breeds with better characteristics.

It will help towards doubling farmers' income by 2022.

To further the use of this chip in generating phenotypic and genotypic correlations, NIAB has entered into a collaborative agreement with National Dairy Development Board (NDDB).

Since NDDB has a well organized presence in the field for collection of phenotypic records.

NIAB and NDDB complement each other to undertake this research for generating information for low density SNP chips for any important trait detection, like high milk yield or heat tolerance etc. This will eventually help in elite bull selection and improvement of productivity characters of Indian cattle.

NIAB has also entered into a MoU with private industry to generate capability within India for designing and making our own SNP chips.
o These may be very low density SNP chips in the beginning and slowly this technology can be further strengthened for bigger chips, making India self-reliant in this field.
CONNECTING DOTS FOR PRELIMS About Single nucleotide polymorphism (SNP) Chips: In molecular biology, SNP array is a type of DNA microarray which is used to detect polymorphisms within a population. In biology, polymorphism is the occurrence of two or more clearly different morphs or forms. It is also referred to as alternative phenotypes, in the population of a species. A single nucleotide polymorphism (SNP), a variation at a single site in DNA, is the most frequent type of variation in the genome. o Around 335 million SNPs have been identified in the human genome,[1] 15 million of which are present at frequencies of 1% or higher across different populations worldwide.
Source: PIB