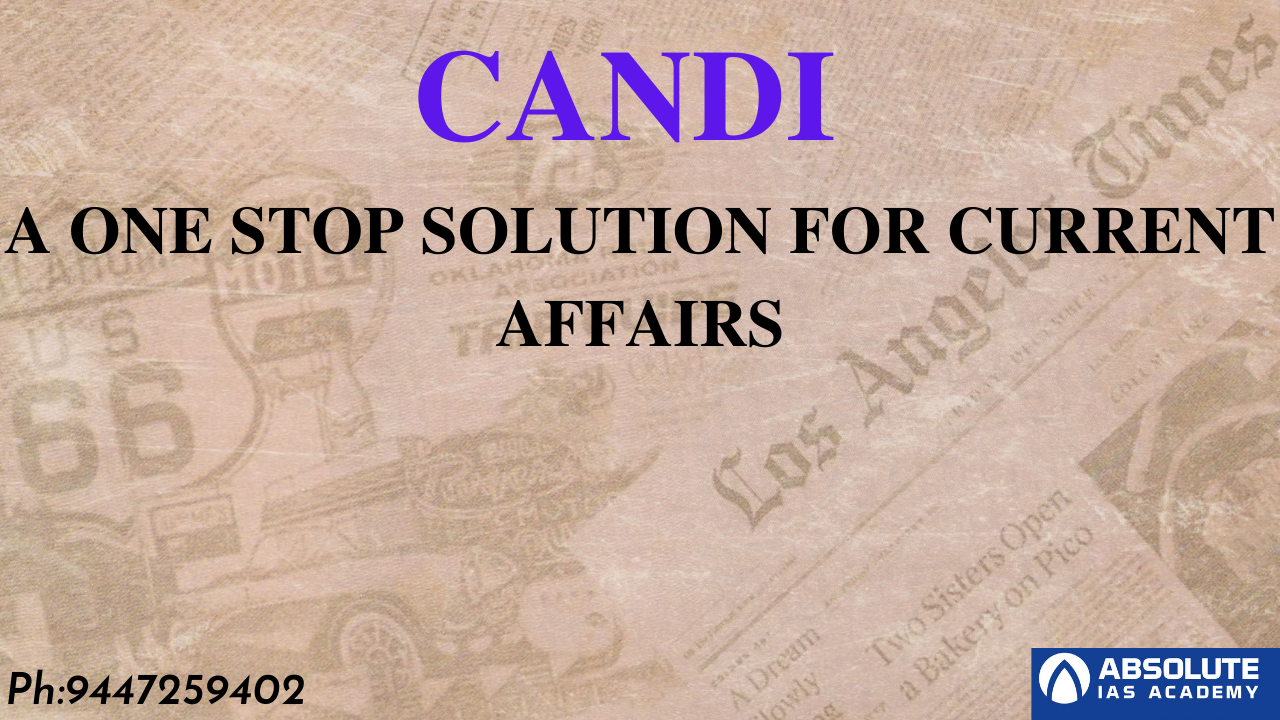 CANDI 20 AUGUST 2021
PRELIMS CRACKER
What is an agency Bank?
The Kerala based private sector lender South Indian Bank has been empanelled
as an 'Agency Bank' by Reserve Bank of India.
This will allow South Indian Bank to undertake general banking businesses of
the Central and State government on behalf of the RBI.
 South Indian Bank is now authorised to undertake transactions related
to government businesses such as revenue receipts and payments on
behalf of the Central/State governments, pension payments in respect
of Central/State governments, work related to Small Savings Schemes
(SSS), collection of stamp duty through physical mode or e-mode and
any other item of work, specifically devised by the RBI as eligible for
agency commission.
Cattle Island
 Cattle island is one of three islands in the Hirakud reservoir.
 It has been recently selected as a sightseeing destination by Odisha
Forest and Environment Department.
 The island is a submerged hill, and before the construction of Hirakud
Dam it was a developed village.
How it got its name?
 When large numbers of people were displaced from their villages when
the Hirakud dam was constructed on the Mahanadi river in 1950s,
villagers could not take their cattle with them. They left their cattle
behind in deserted villages.
 As the area started to submerge following the dam's construction, the
cattle moved up to Bhujapahad, an elevated place in the Telia Panchayat
under Lakhanpur block of Jharsuguda district. Subsequently named
'Cattle island', the piece of land is surrounded by a vast sheet of water.
Hirakud Dam:
 It is a multipurpose scheme conceived by Er. M. Visveswaraya in 1937,
after recurrence of devastating floods in Mahanadi river.
 It is the longest dam of India.
Page | 3 | CANDI 19 Aug 2021 |
Purified drinking water supply via tankers taxable
Authority for Advance Ruling (AAR) has ruled that supply of drinking water to
the public through mobile tankers or dispensers by a charitable
organisation is taxable at 18% under the GST.
About Advance Ruling and AAR:
Advance ruling means the determination of a question of law or fact specified
in the application in relation to tax liability of an applicant arising out of
transactions which have been undertaken or proposed to be undertaken.
Composition: The Authority for Advance Rulings consists of a Chairman who is a
retired Judge of the Supreme court and two members of the rank of Additional
Secretary to the Government of India, one each from the Indian Revenue Service
and the Indian Legal Service.
Tiwa Tribes
 Tiwa is indigenous (Tibeto-Burman race) community inhabiting the states
of Assam and Meghalaya (main region) and also found in some parts of
Arunachal Pradesh and Manipur in Northeast India.
 They are recognized as a Scheduled tribe within the State of Assam. They
were also known as Lalungs.
 A striking peculiarity of the Tiwa is their division into two sub-groups, Hill
Tiwa and Plains Tiwas, displaying contrasting cultural features.
 Population:
o In the hills, they number only more than 10,000 (according to the
2001 Census of India).
 The Tiwas practice Jhum or shifting cultivation, where the land is first
cleared of any vegetation that is later set on fire (slash-and-burn).
 Festivals constitute a significant part of the culture of the Tiwa people.
Wanchuwa Festival
Page | 4 | CANDI 19 Aug 2021 |
 It is one of the most important festivals of the Tiwa tribal community
living in the hills because of its connection with agriculture, the mainstay
of their economy.
 Tiwas pray for a bountiful harvest as well as protection from pests and
natural calamities.
 Using bamboo sticks in hand, they proceed to rhythmically beat the rice
powder, occasionally pausing to move around the circle.
 A pig seems to be a staple part of their diet and their culture.
 They take the form of pigs' skulls and bones which act as deities and are
preserved through many generations.