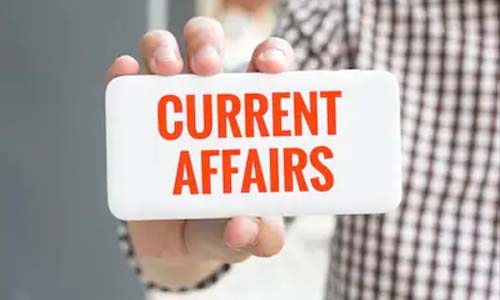 16 SEPTEMBER CURRENT AFFAIRS (MCQ)
Q1. With reference to Permafrost, consider the following statements1. They cover more than 30% of world's region.
These regions may not be always covered with snow.
If it thaws, there may be a chance of microbial outbreak.
Select the correct answer using the code given belowa) 1 only
b) 2 and 3 only
c) 1 and 3 only
d) 1, 2 and 3
Solution: b)
Explanation:
Statement 1 is not correct.
 Permafrost:
o Permafrost is any ground that remains completely frozen – 32°F (0°C) or colder – for
at least two years straight.
o These permanently frozen grounds are most common in regions with high
mountains and in Earth's higher latitudes – near the North and South Poles.
o Permafrost covers about 15% of the land area of the globe.
o Although the ground is frozen, permafrost regions are not always covered in snow.
o Landscapes with large stretches of permafrost are often called tundra. The word
tundra is a Finnish word referring to a treeless plain. Tundra is found at high
latitudes and at high altitudes, where the permafrost has a very thin active layer.
Concerns Regarding Melting Permafrost:
 Change from Carbon Storehouse to Carbon Emitters:
o Some permafrost regions have changed from being a carbon storehouse to being
places that are net emitters of carbon.
 Releasing New Bacteria or Viruses:
o The environment now is so much more suitable than during the Ice Age for not just
human life, but also the evolution or development of viruses and bacteria.
o So, the chances of emerging new bacteria or viruses cannot be ignored.
Q2. With reference to Oilseed Production in India, consider the following statements1. Groundnut account for nearly half of oilseed production in India.
India is the largest producer of oilseed in world.
India is net importer of oilseeds.
Which of the above given statements are correct?
a) 1 and 2 only
b) 2 only
c) 2 and 3 only
d) 1, 2 and 3
Page | 3 | CAPS 16 Sep 2021 |
Solution: d)
Explanation:
All statements are correct.
 Major oilseeds include groundnut, linseed, sesamum, castor seed, rapeseed, mustard,
sunflower and soyabean.
 Oil extracted from oilseeds is used in diet and as raw material for manufacturing paints,
varnishes, hydrogenated oil, soaps, etc.
 Oil-cake which is the residue of oilseeds forms an important cattle-feed and manure.
 India has the largest area (18-20 % of the net sown area) and production of oilseeds in the
world.
 There had been a gradual increase in area, production and yield of oilseeds, with the
passage of time.
 The production of oilseeds has always fallen short of our demand and India has always
been a net importer of oilseeds.
 There is a very little scope for bringing additional area under oilseeds. Increasing
productivity is the only way to meet the domestic demand.
 Drylands of Madhya Pradesh, Rajasthan, Maharashtra & Gujarat are the main producers of
major oilseeds accounting for over two-third of the area and three-fourths of the
production.
 Other producers include Andhra Pradesh, UP, Haryana, Karnataka, Tamil Nadu (gives
maximum yield in oil seeds) West Bengal, Odisha, Assam, etc.
Production in 2017-18 (in Million Tonnes)
Major oilseeds producing states Area – Million Hectares Production (MT)
1 Madhya Pradesh 6.6 (27%) 7 (22.2%)
2 Rajasthan 4.1 (16.7%) 6 (19.1%)
3 Gujarat 2.8 (11.2%) 5.9 (18.7%)
4 Maharashtra 4.2 (17.1%) 4.3 (13.6%)
5 Uttar Pradesh 1.1 (4.4%) 1.2 (3.7%)
All India 24.7 Mha 31.3 MT
 West Bengal, Haryana, Andhra Pradesh, Tamil Nadu, Karnataka and Telangana are the
other major producers of pulses.
Groundnut
 Groundnut is the most important oilseed of India.
 It accounts for nearly half of the major oilseeds produced in India.
 Groundnut kernels are rich in proteins and vitamins and have high calorific value.
 It contains 40-50% oil which is used as edible oil or hydrogenated vanaspati.
 The oil is used for manufacturing margarine, medical emulsions, soap etc.
 Its oil cake is used as an important rich cattle feed.
 It is often a rotation crop because of its atmospheric nitrogen fixing abilities.
Page | 4 | CAPS 16 Sep 2021 |
Q3. Which of the following statements are correct about Terai-Arc Landscape?
It is land stretch between River Yamuna and River Ganga.
It spreads across 3 states of India.
No Tiger Reserve or Elephant Corridors are found in this stretch.
Select the correct answer using the code given belowa) 1 and 2 only
b) 2 only
c) 3 only
d) 1 and 3 only
Solution: b)
Explanation:
Statement 1 and 3 are not correct.
Terai Arc Landscape
 It is an 810 km stretch between the river Yamuna in the west and the river Bhagmati in the
east.
 It is spread across the Indian states of Uttarakhand, Uttar Pradesh and Bihar, and the low
lying hills of Nepal.
 It boasts of some of India's most well-known Tiger Reserves and Protected Areas such as
Corbett Tiger Reserve (Uttarakhand), Rajaji National Park (Uttarakhand), Dudhwa Tiger
Reserve (Uttar Pradesh), Valmiki Tiger Reserve (Bihar).
 The forests are home to three flagship species, the Bengal tiger (Panthera tigris), the
greater one horned rhino (Rhinoceros unicornis) and the Asian elephant (Elephas
maximus).
Q4. Which of the following is not a unitary feature of Indian federalism?
a) All India Services
b) Independent Judiciary
c) Integrated Audit Machinery
d) Appointment of Governor
Solution: b)
Explanation:
Features of the Federal System of India
Dual government polity
Division of powers between various levels
Rigidity of constitution
Independence judiciary
Dual citizenship
Bicameralism
Unitary Features of the Indian Union
The flexibility of the constitution – the constitution is a blend of flexibility and rigidity.
Certain provisions of the constitution can be easily amended. In case the amendments
Page | 5 | CAPS 16 Sep 2021 |
seek to change aspects of federalism in India, the provision to bring about such
amendments is not easy. (Read about types of majorities in India Parliament using which
amendments or certain other provisions are introduced.)
More power vests with the Centre – the constitution guarantees more powers with the
Union List. On the Concurrent List subjects, the parliament can make laws that can override
the laws made by a state legislature on some matters. The parliament can also make laws
regarding certain subjects in the State List.
Unequal representation of states in the Rajya Sabha – the representation of the states in
the upper house is based on the states' populations. For example, Uttar Pradesh has 31
seats and Goa, 1 in the Rajya Sabha. In an ideal federal system, all the states should have
equal representation.
The executive is a part of the legislature – in India, the executive in both the centre and the states
is a part of the legislature. This goes against the principle of division of powers between the different
organs of the government.
Q5. Which of the statements are correct about Fuel Cell Electric Vehicles?
They are more energy efficient than traditional combustion technologies.
They produce only water and heat as a by-product.
Select the correct answer using the code given belowa) 1 only
b) 2 only
c) Both 1 and 2
d) Neither 1 nor 2
Solution: c)
Explanation:
Both statements are correct.
Fuel Cell Electric Vehicle
Mechanism: The FCEV combines hydrogen and oxygen to generate an electric current.
Hydrogen + Oxygen = Electricity + Water Vapour
FCEV engines are similar to the conventional internal combustion engines because they also rely on
a constant supply of fuel (hydrogen) and oxygen.
However, there are no moving parts in the fuel cell, so they are more efficient and reliable.
Advantages:
FCEVs produce much smaller quantities of greenhouse gases (GHGs) and none of the air
pollutants that cause health problems.
Fuel cells emit only heat and water as a byproduct and are far more energy-efficient than
traditional combustion technologies.
There is a wide availability of resources for producing hydrogen.
Disadvantages:
The process of making hydrogen needs energy, often from fossil fuel sources, which raises
questions over hydrogen's green credentials.
Handling of hydrogen is a safety concern because it is more explosive than petrol.
Page | 6 | CAPS 16 Sep 2021 |
Q6. With reference to Organization of Islamic Cooperation, consider the following statements1. It is world's second largest inter-governmental organization after United Nations.
India is an associate member of OIC.
Which of the above given statements are correct?
a) 1 only
b) 2 only
c) Both 1 and 2
d) Neither 1 nor 2
Solution: a)
Explanation:
Statement 2 is not correct.
Organisation of Islamic Cooperation
OIC is the second largest intergovernmental organization after the United Nations with a
membership of 57 states.
India is not a member of the OIC.
It is the collective voice of the Muslim world. It endeavors to safeguard and protect the interests of
the Muslim world in the spirit of promoting international peace and harmony among various people
of the world.
It was established upon a decision of the historical summit which took place in Rabat, Kingdom of
Morocco, in 1969.
Headquarters: Jeddah, Saudi Arabia.
Q7. Which of the following are correctly matched?
Country Region Associated/Places seen in News
Bagram Afghanistan
Amami Islands Japan
Tigray Ethiopia
Select the correct answer using the code given belowa) 1 and 2 only
b) 2 and 3 only
c) 3 only
d) 1 only
Solution: a)
Explanation:
Bagram- Afghanistan
Amami Islands- Archipelago of Japan
Tigray – Ethiopia
Q8. At present, which of the following are allowed for postal voting in India?
Members of Armed Forces
Persons employed under Government of India outside of India
Page | 7 | CAPS 16 Sep 2021 |
President
Vice-President
Select the correct answer using the code given belowa) 1 and 2 only
b) 2,3 and 4 only
c) 1,2 and 4 only
d) 1,2,3 and 4
Solution: d)
Explanation:
What is postal voting?
A restricted set of voters can exercise postal voting. Through this facility, a voter can cast her vote
remotely by recording her preference on the ballot paper and sending it back to the election officer
before counting.
Who can avail this facility?
Members of the armed forces like the Army, Navy and Air Force, members of the armed police
force of a state (serving outside the state), government employees posted outside India and their
spouses are entitled to vote only by post. In other words, they can't vote in person. Voters under
preventive detention can also vote only by post.
Special voters such as the President of India, Vice President, Governors, Union Cabinet ministers,
Speaker of the House and government officers on poll duty have the option to vote by post. But
they have to apply through a prescribed form to avail this facility.
Q9. Consider the following statements with reference to Production Linked Incentive Scheme1. It aims to boost domestic production and cut down import bills.
Foreign Companies are excluded from this scheme.
This will make India absolutely resilient from Global Supply Disruptions.
Select the correct answer using the code belowa) 1 and 2 only
b) 2 and 3 only
c) 2 only
d) 1 only
Solution: d)
Explanation:
Statement 2 and 3 are not correct.
About the PLI Scheme:
 In order to boost domestic manufacturing and cut down on import bills, the central
government in March 2020 introduced a scheme that aims to give companies incentives
on incremental sales from products manufactured in domestic units.
 Apart from inviting foreign companies to set shop in India, the scheme also aims to
encourage local companies to set up or expand existing manufacturing units.
 The Scheme has been approved for many sectors including electronic products, IT
hardware, pharmaceuticals, automobiles and components, etc.
Page | 8 | CAPS 16 Sep 2021 |
 Eligibility for the Scheme:
It is subject to achieving a minimum threshold of cumulative incremental investment and
incremental sales of manufactured goods.
The cumulative investment can be made at one go, subject to annual cumulative threshold as
prescribed for four years being met.
2019-20 will be treated as the base year for computation of cumulative incremental sales of
manufactured goods net of taxes.
Q10. Match the following places with their countryPorts Country
Hambantota Srilanka
Sabang Malaysia
Changi Singapore
Kyaukpyu. Myanmar
Select the correct answer using code belowa) 1 and 2 only
b) 3 and 4 only
c) 1 and 3 only
d) 1,3 and 4 only
Solution: d)
Explanation:
Sabang Port, Indonesia: In 2018, India got the military access to Sabang Port which is located right
at the entrance of Malacca Strait. This strait is one of the world's famous choke point. A large chunk
of trade and crude oil passes on to China through this region.
Changi Naval Base, Singapore: In 2018, Prime Minister Modi signed an agreement with Singapore.
The agreement has provided direct access to this base to the Indian Navy. While sailing through the
South China Sea, the Indian Navy can refuel and rearm its ship through this base.
The Hambantota Port, also known as the Magampura Mahinda Rajapaksa Port, is a maritime inland
port located in Hambantota, Sri Lanka. It is constructed by the Sri Lankan Port Authority and mostly
funded by EXIM bank of China.
MYANMAR – China's belt and road initiative in Myanmar is primarily concentrated on developing
the Bay of Bengal port of Kyaukpyu.