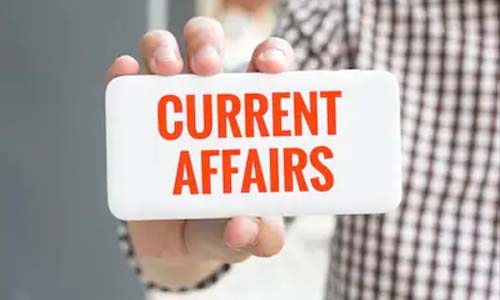 28 SEPTEMBER CURRENT AFFAIRS (MCQ)
Q1. Which of the following conditions are necessary for the development of Karst topography?
Thick massive soluble rock
Jointed bedrock
Relief
Moderate to heavy rainfall
Select the correct answer using the code given below.
a) 1 and 4 only
b) 1, 3 and 4 only
c) 2 and 3 only
d) 1, 2, 3 and 4
Solution: d)
Explanation:
The conditions, which are necessary for the development of typical karst topography, include the
following:
 Relatively thick massive soluble rock, i.e., limestone, dolomite, or chalk near the surface.
 Marked development of joints. If the rock is bedded, the beds should be thin.
Considerable relief (preferably several hundred meters) so that water is capable of
circulation to cause typical karst topography.
 Moderate to heavy rainfall to cause solution of rocks. Rainfall becomes carbonate by
absorbing atmospheric CO2. Moreover, rainfall encourages growth of plants whose
decomposition is an additional source of CO2 to the flowing water. In dry areas the
development of karst landscape is inhibited.
 In India, Karst topography is observed in parts of Himalayas, Chhattisgarh basin and coastal
areas. Yana is a village located in forests of the Uttara Kannada district of Karnataka, India
which is known for the development of karst topography.
Q2. Which of the following can be referred to as "Near Money"?
Certificate of Deposits
Debentures
Real Estate
Treasury Bills
Select the correct answer using the code given below.
a) 2 and 4 only
b) 1 and 3 only
c) 2 and 3 only
d) 1,2 and 4 only
Solution: d)
Explanation:
 Near money is an economic term describing non-cash assets that can be easily converted
into cash but are not used as a medium of exchange in everyday transactions. For example,
the time deposits, Bills of Exchanges, Government and Private Bonds, Saving certificates,
Page | 3 | CAPS 28 Sep 2021 |
shares, T-Bills etc. possess the power of money, yet they are not used to perform
immediate economic activities.
 ∙ Currency notes and demand deposits such as cheques, demand drafts etc. are more
liquid than near money and can be used as medium of exchange in everyday transactions.
Thus they are not categorized as near money.
 ∙ Real estate can not be called near money. The holder of the real estate needs to convert
it into money before performing economic activities.
Q3. Which of the following statements are correct about United Nation General Assembly?
It is elected each year by assembly to serve a three year term of office.
Decision on admission of news states is taken by simple majority.
Currently, India is elected on the chair of the assembly.
Select the correct answer using the code given belowa) 1 and 2 only
b) 2 and 3 only
c) 1,2 and 4 only
d) None of the above
Solution: d)
Explanation:
United Nations General Assembly
 The General Assembly is the main deliberative, policymaking and representative organ of
the UN.
 All 193 Member States of the UN are represented in the General Assembly, making it the
only UN body with universal representation.
 Each year, in September, the full UN membership meets in the General Assembly Hall in
New York for the annual General Assembly session, and general debate, which many heads
of state attend and address.
 Decisions on important questions, such as those on peace and security, admission of new
members and budgetary matters, require a two-thirds majority of the General Assembly.
 Decisions on other questions are by simple majority.
 The President of the General Assembly is elected each year by assembly to serve a one-year
term of office.
 Recently, the Maldives' Foreign Minister Abdulla Shahid was elected the President of the
76th session of the UNGA for 2021-22
 The UNGA has also appointed Antonio Guterres as the ninth UN Secretary General (UNSG)
for a second term beginning 1st January, 2022 and ending on 31st December, 2026.
Q4. Which of the following countries constitute QUAD?
India
Pakistan
China
United States
France
Page | 4 | CAPS 28 Sep 2021 |
Australia
Japan
Select the correct answer using the code given belowa) 1,2 and 4 only
b) 1,2,3,4 and 7 only
c) 1,4,6 and 7 only
d) All of the above
Solution: c)
Explanation:
QUAD
It is a four-nation alliance of India, Australia, USA and Japan which was established in 2007.
 It is often dubbed as an "Asian" or "mini" NATO, and is viewed as a counterbalance to
China's military and economic clout in the Indo-Pacific region.
o The 2020 US-China Economic and Security Review Commission shows China's
growing power projection along the Indian Ocean rim with military or economic
activities in countries like Pakistan, Sri Lanka, Maldives, Myanmar and Bangladesh.
 Interestingly, the QUAD, which used to be known as the quadrilateral security dialogue, is
now known as the quadrilateral framework to indicate it has gone beyond a narrow
security dialogue.
 Evolution:
o The group, which began with an ambitious geostrategic vision 14 years ago, failed
to take off initially due to hesitation among the four nations and objections by
China.
o In December 2012, Shinzo Abe again floated the concept of Asia's "Democratic
Security Diamond" involving Australia, India, Japan and the USA to safeguard the
maritime commons from the Indian Ocean to the western Pacific.
o In November 2017, India, the USA, Australia and Japan gave shape to the longpending "QUAD" Coalition to develop a new strategy to keep the critical sea routes
in the Indo-Pacific free of any influence (especially China).
Since then, QUAD has taken several steps to bolster military and strategic ties with a series of
working- and ministerial-level meetings.
Q5. With reference to Coal in India, consider the following statements:
98% of the total coal reserves in India belong to the Gondwana period.
Indian coal is mainly lignite with the carbon content varying between 40 to 50 per cent.
Non- coking coal comprises major share of Indian coal.
Which of the statements given above is/are correct?
a) 1 only
b) 1 and 3 only
c) 2 and 3 only
d) 1, 2 and 3
Solution: b)
Page | 5 | CAPS 28 Sep 2021 |
Explanation:
Statement 2 is not correct.
 Coal found in India belongs to two geological periods: the Gondwana and the Tertiary. Of
the 113 coalfields found in the country, 80 belong to the Lower Gondwana period. These
account for over 98% of the total reserves and 99% of the production of coal in India. The
Gondwana coal has carbon content between 55 and 60 per cent, high volatile matter and
ash contents. It is mainly bituminous and anthracite. While total coal reserves are
estimated at 111.83 billion tonnes, total lignite reserves are estimated at 38.93 billion
tonnes only.
 The coal is both coking and non-coking. However, non-coking coal comprises lion's share
of Indian coal. The estimated reserve of coking coal is about 29.70 billion tonnes while
non-coking coal reserves being 166.32 billion tonnes.
Q6. Permafrost, the perennially frozen soil in high latitude and altitude regions, has exhibited
increased thawing due to global warming. Which of the following may be its consequences?
It may further aggravate global warming due to release of methane gas.
It may pose a threat to local ecosystems.
It may cause damage to local infrastructure.
Which of the statements given above is/are correct?
a) 1 only
b) 1 and 3 only
c) 2 and 3 only
d) 1, 2 and 3
Solution: d)
Explanation:
All statements are correct.
 Permafrost is perennially frozen soil that has been below 00C for at least two years.
Permafrost is a condition where top layer upto depth of 20-40 cm is completely frozen.
This happens in high latitude and altitude regions.
It's found underneath about 25% of the northern hemisphere, mainly around the Arctic –
but also in the Antarctic and Alpine regions. In the northern region of Alaska, the
permafrost has been warming at about one-tenth of a degree Celsius per year since the
mid 2000s.
 These top soils melt due to global warming which is a great threat as there melt will
aggravate the condition of global warming. As permafrost thaws, this carbon is released
to the atmosphere in the form of methane, a powerful greenhouse gas. This process leads
to more climate change and is an example of a positive feedback loop, which happens
when warming causes changes that lead to even more warming.
 As permafrost thaws, it can also cause substantial changes in the local ecosystem, altering
the flow of water atop and through the soil, as well as what plant and animal life can thrive
in the area.
 It is a part of life in the frigid North Slope, underlying buildings, roads and other
infrastructure. When it thaws, it can cause considerable damage. In Alaska, the warming
Page | 6 | CAPS 28 Sep 2021 |
of the permafrost has been linked to trees toppling, roads buckling and the development
of sinkholes.
 When permafrost melts, the land above it sinks or changes shape. Sinking land can damage
buildings and infrastructure such as roads, airports, and water and sewer pipes. It also
affects ecosystems.
Q7. Which of the following hold significance for 'Inflation Targeting'?
Repo rates
Cash Reserve Ratio
Fiscal Consolidation
Supply of Essential Commodities
Select the correct answer using the code given below.
a) 1 and 2 only
b) 1, 2 and 3 only
c) 3 and 4 only
d) 1, 2, 3 and 4
Solution: d)
Explanation:
When the central bank follows Inflation Targeting, the government and the central bank together
have to take steps towards ensuring price stability.
Strong macroeconomic fundamentals like:
∙ Stable growth
∙ Low current account deficit
∙ Narrowing fiscal deficit
∙ Moderating inflation
∙ Low short term foreign currency liabilities and
∙ Sizeable exchange reserves relative to imports and liabilities, are necessary for ensuring price
stability.
 Repo rates and CRR are of importance to control liquidity and hence inflation. Too much
money chasing too few goods will lead to inflation.
 Structural imperfections like hoarding and tax structures may also create supply side
constraints leading to inflation.
Q8. Which of the following are threats to Black Panther Population?
Deforestation
Collision with vehicles
Human Encroachment
Diseases
Poaching
Habitat Loss
In-breeding
Select the correct answer using the code below-
Page | 7 | CAPS 28 Sep 2021 |
a) 1,2,3,4, and 7 only
b) 2,3,4,5 and 7 only
c) 4,5,6 and 7 only
d) 1,2,3,4,5 and 6 only
Solution: d)
Explanation:
 Black Leopards are mainly in Southwestern China, Burma, Nepal, Southern India,
Indonesia, and the southern part of Malaysia.
o In India they can be spotted in the states of Karnataka, Tamil Nadu, Kerala,
Maharashtra etc.
 Threats:
o Habitat loss.
o Collision with vehicles.
o Diseases.
o Human encroachment.
o Poaching.
 In Breeding is not a threat to Black Panther
Q9. With reference to Indian Agriculture, consider the following statements about Farmer
Producer's Organisation1. They provide education and training to their members
They help farmers to collectively pursue state of art technology products.
They will help in increasing the penetration of digitisation of agriculture.
Which of the above statements are correct?
a) 1 and 2 only
b) 2 only
c) 1 only
d) 1, 2 and 3
Solution: d)
Explanation:
All statements are correct.
What are FPOs?
 FPOs are voluntary organizations controlled by their farmer-members who actively
participate in setting their policies and making decisions.
 They are open to all persons able to use their services and willing to accept the
responsibilities of membership, without gender, social, racial, political or religious
discrimination.
 FPOs operatives provide education and training for their farmer-members, elected
representatives, managers, and employees so that they can contribute effectively to the
development of their FPOs.
 FPOs in Gujarat, Maharashtra and Madhya Pradesh, Rajasthan and some other states have
shown encouraging results and have been able to realise higher returns for their produce.
Page | 8 | CAPS 28 Sep 2021 |
 Negotiating With Corporates: FPO can help farmers compete with large corporate
enterprises in bargaining, as it allows members to negotiate as a group and can help small
farmers in both input and output markets.
 Economics of Aggregation: The FPO can provide low-cost and quality inputs to member
farmers. For example, loans for crops, purchase of machinery, input agri-inputs (fertilizers,
pesticides, etc.) and direct marketing after procurement of agricultural produce.
o This will enable members to save in terms of time, transaction costs, distress sales,
price fluctuations, transportation, quality maintenance, etc.
Q10. In the context of Indian economy, which of the following statements correctly describes the
phrase 'Monetary Policy Corridor'?
a) Overnight liquidity support provided by RBI to commercial banks with a higher interest rate.
b) It's a tool which allows banks to borrow money through repurchase agreements.
c) It is the difference between reverse repo rate and marginal standing facility rate.
d) It is a fund that banks must retain as a proportion of the deposits made by their customers.
Solution: c)
Explanation:
Monetary Policy Corridor refers to the area between the lower reverse repo rate and the upper
ceiling rate of marginal standing facility (MSF) rate. The RBI's monetary policy tool kit that includes
the instruments like repo, LAF often undergoes change. With time and financial sector
developments new instruments may come. One such newly inducted instrument is the monetary
policy corridor.
Reverse repo rate will be the lowest of the policy rates whereas Marginal Standing Facility is
something like an upper ceiling with a higher rate than the repo rate. The MSF rate and reverse repo
rate determine the corridor for the daily movement in the weighted average call money rate.